From Recumbent Cyclist 1992 buyer's Guide: "The all new model R-20."
Advanced Transportation Products 550 3rd Ave. N. Edmonds, WA 98020
Phone (206) 771-3719 Contact: Joel Smith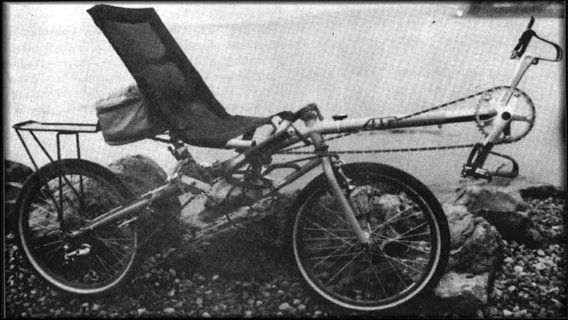 STYLE: SWB WEIGHT: under 30 lbs. WHEELBASE: 38" WEIGHT DISTRIBUTION: (approx.) 55% front, 45% rear. FRAME: TIG welded Chro-moly, one size, adjustable boom. STEERING: underseat, connected to fork. DRIVETRAIN: dual chain, intermediate idler, 21 speed index shifting, full Suntour XT-LTD component group with cantilever brakes. WHEELS: 20 x 1.75 100 psi ACS front and rear. PAINT: powdercoat aqua. SEAT: suspended mesh. COST: $1350, framesets are also available. NEW FOR '92: The all new ATP R-20 is a new and different SWB design. The Hyperdrive drivetrain takes care of any gearing problems commonly associated with bikes using two 20" wheels. The standard gearing is 25- 125 gear inches. Look for a full test in the next RCN.