BIKES: R20 R30 R32 R40 R42 R44 R45 R50 R54 R55 R64 R65 R68 R70 R72 R82 R85
COMPONENT CHARTS AND MRSPs BY YEAR: R30 R40 R42 R44 R45 R50 R60 R70 R80
| | |
| --- | --- |
| VR82 | The base version of the ATP tandem. |
| | | |
| --- | --- | --- |
| An ATP original patent, the Independent Pedaling System allows for the stoker and the captain to pedal at different intervals. IPS was an extra cost option for the front crankset, and made stopping and starting the bike easier. Click the link to read more on the sytem and the patent. | | |
ACTION shot from ATP's 1999 collection
courtesy Dave Atwood

STUDIO shot from ATP's 2000 collection
courtesy Dave Atwood


1024x768 < ENLARGE > 2452x14368


1024x768 < ENLARGE > 2504x1632
"Double Vision" Recumbent Tandem Bike, located in Asbury Park New Jersey, Feb. 2019. Mostly stock and in excellent condition with nice custom wheels with Phil Wood Hubs. Asking $1500. http://www.bentrideronline.com/messageboard/showthread.php?t=144758
Jay Dykstra's R82 Double Vision, posted April 20, 2015.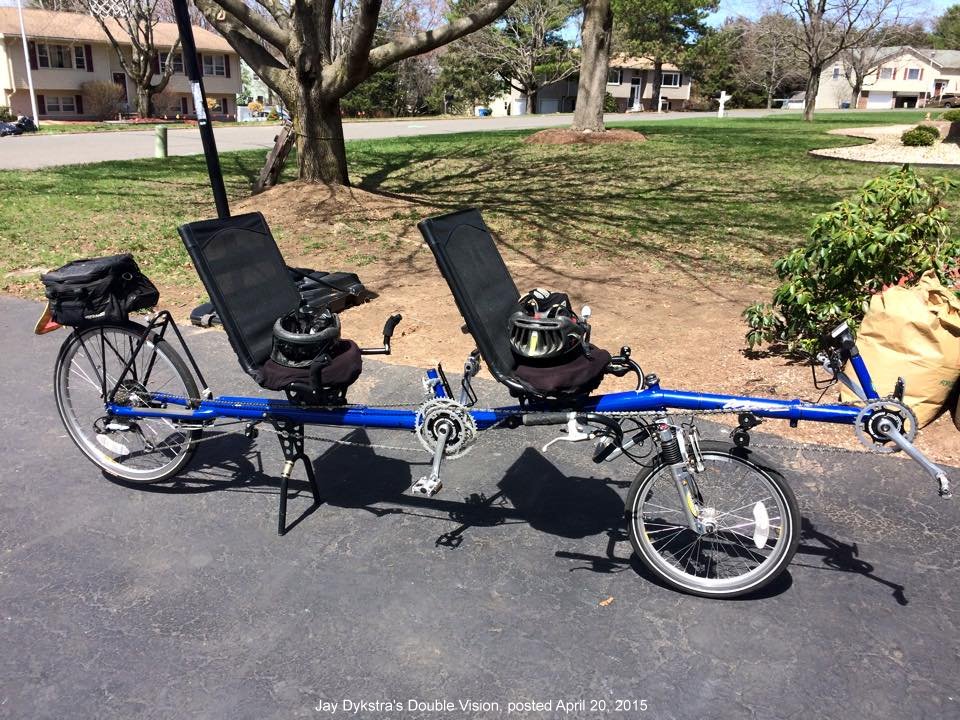 Douglas A. Burton's 2003 R82 Double Vision, Richmond, VA. "I bought the R82 used from a fellow in San Francisco ($300 to ship it here!). I bought crank shorteners for the R82 (my son was 11 at the time)."
Rodney Bungard's 2001 R82, posted June 13, 2018.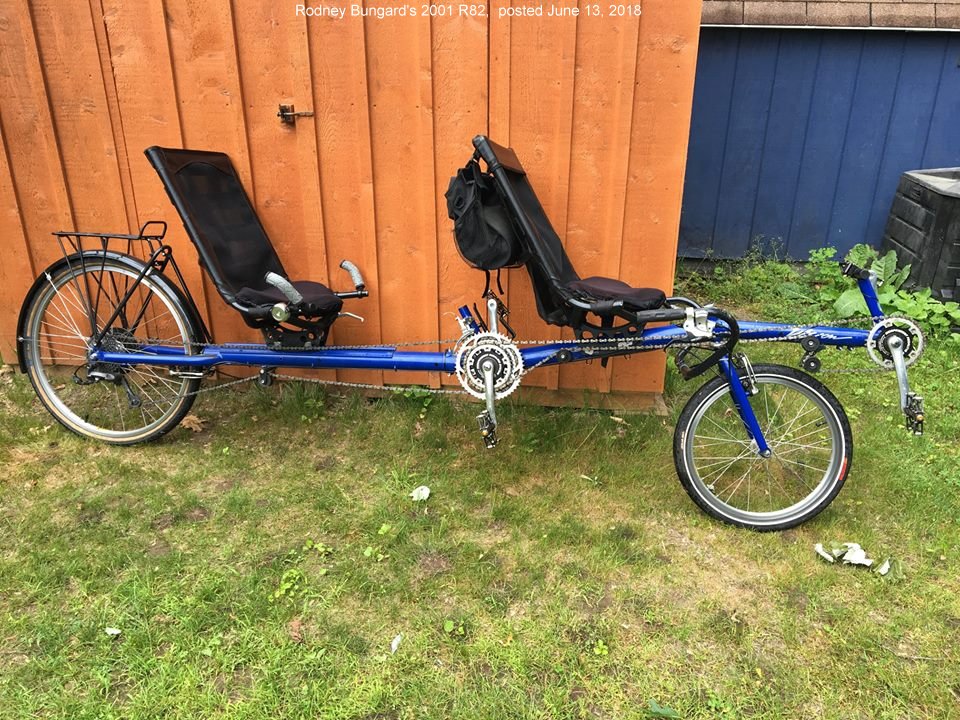 "Miles For Clean Air - A Tour of the Canadian Rockies by Double Vision".
Article from RCN 039 May - June 1997. View as 3 page PDF.
Corwin Croy comments (April 29, 2020): "Found this R82, #165, recently in Celina, Ohio. It was bought in 2001 at Valley Bikes, in Indiana. The business is no more. We brought it home to Bluffton, Ohio. My wife and I took it out for a couple of miles after I replaced the stoker seat with one we had from a Volae. Then, I added a seat from a Burley I have been parting out to keep 3 other Burley recumbents on the road and another one locked onto a 'Cyclops'."